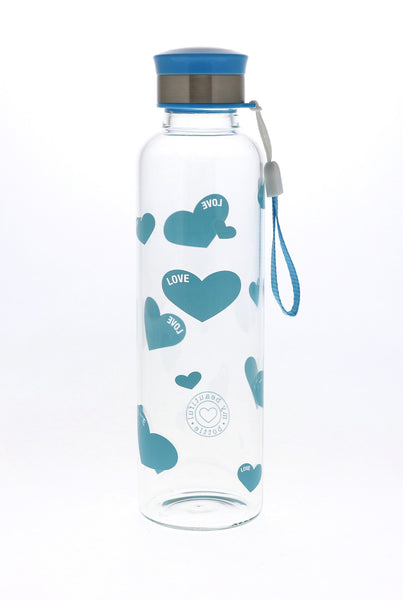 Love Blue
Our Hearts of Love collection was put together because everyone needs a bit of love in their life! There are three options:

- beautiful blue
- happiness yellow and
- gorgeous pink.

Each will fill your water, smoothie or juice with amazing positivity to make you feel great, inside & out.
Let your hearts remind you to love and be loved… Great things might just start happening!
-Our Love Blue bottle holds 550ml of water, juice or smoothie to nourish you night and day
-Made from the best quality borosilicate glass
-BPA free and recyclable 
-The mouthpiece is the perfect size to pour fresh juices, smoothies and water into and feels wonderful to drink from
-There are 4 different coloured lids, all complete with silicon ring, making them leak proof
-Each lid has a cute little lanyard to keep them even safer
-Our bottles are happy to hold warm fluids in the winter, just not boiling
-Every bottle has our signature logo on, infusing your bottle with love and beauty