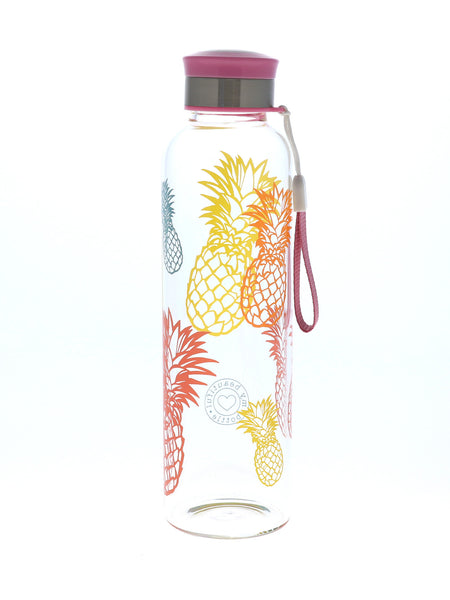 Rainbow Pineapples
What is not to like about pineapples? We have multi-colours for fun summer days and chic orange to carry around in your designer handbag!
This multi-coloured option is the perfect bottle for anyone who wants some real colour in their life - fun, playful and inspiring! They remind us of Hawaii, the sweetest & most delicious tasting pineapples and all that is bright & brilliant about life!
Let this beautiful, vibrant bottle inspire you to go out and shine! Always be true to your inner awesomeness and be playful, enjoy every single day, do the things that make you laugh, have more fun and always follow your dreams!
Choose to live on purpose with purpose!
-Our Rainbow Pineapple bottle holds 550ml of water, juice or smoothie to nourish you night and day
-Made from the best quality borosilicate glass
-BPA free and recyclable 
-The mouthpiece is the perfect size to pour fresh juices, smoothies and water into and feels wonderful to drink from
-There are 4 different coloured lids, all complete with silicon ring, making them leak proof
-Each lid has a cute little lanyard to keep them even safer
-Our bottles are happy to hold warm fluids in the winter, just not boiling
-Every bottle has our signature logo on, infusing your bottle with love and beauty