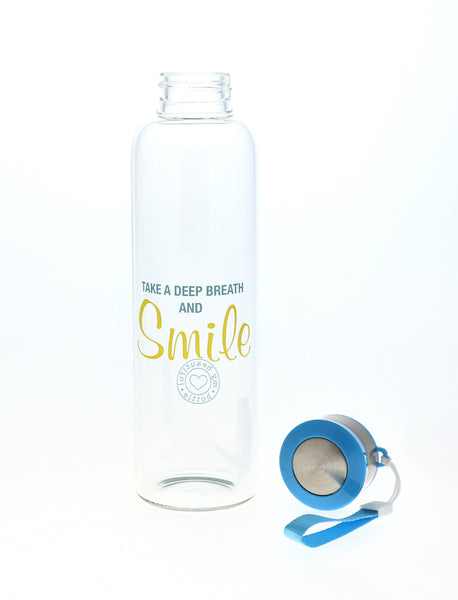 Take a Deep Breath and Smile
Don't you just love that feeling of being outside in nature?
Where you look around and realise that life is amazing... you take a long deep breath in and can't help but smile! Well let this lovely bottle inspire you to notice all the good that's around, all of the opportunities, the amazing people, the ideas, all the fun...
Then every now and then, just stop, pause then take a nice deep breath and smile, because life is good and happiness is always available! Then notice how many other people smile when they see your Beautiful Bottle... it's the perfect conversation starter and who know what a simple smile at a stranger could lead to! So smile more and choose happiness!
 As we always like to think: "Life is about moments. Don't wait for them, create them."
-Our Smile bottle holds 550ml of water, juice or smoothie to nourish you night and day
-Made from the best quality borosilicate glass
-BPA free and recyclable 
-The mouthpiece is the perfect size to pour fresh juices, smoothies and water into and feels wonderful to drink from
-There are 4 different coloured lids, all complete with silicon ring, making them leak proof
-Each lid has a cute little lanyard to keep them even safer
-Our bottles are happy to hold warm fluids in the winter, just not boiling
-Every bottle has our signature logo on, infusing your bottle with love and beauty