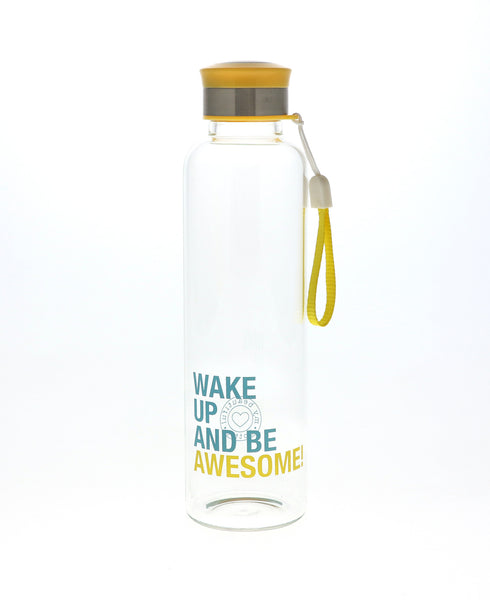 Wake Up And Be Awesome
This was the first bottle I knew we all needed: start the day as you mean to go on! Wake up and do the things that make you feel amazing. Exercise, meditate, go free-running, surfing, do yoga or Tai-Chi, take the dog for a walk, write someone a thank you letter. Whatever you do, make it awesome!
This bright, colourful design will give you that extra nudge of positivity to get out there and take on the world! Each and every day is your chance to shine and see the light in others!
 Wake Up, and Be Awesome!
-Our Awesome bottle holds 550ml of water, juice or smoothie to nourish you night and day
-Made from the best quality borosilicate glass
-BPA free and recyclable 
-The mouthpiece is the perfect size to pour fresh juices, smoothies and water into and feels wonderful to drink from
-There are 4 different coloured lids, all complete with silicon ring, making them leak proof
-Each lid has a cute little lanyard to keep them even safer
-Our bottles are happy to hold warm fluids in the winter, just not boiling
-Every bottle has our signature logo on, infusing your bottle with love and beauty